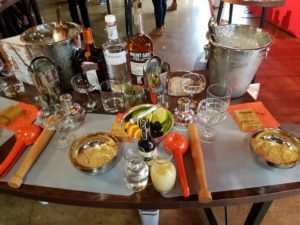 This week's blog is a field trip—and it was a blast! Cointreau teamed up with The Botanist Gin and Mount Gay Rum for The Art of the Mix Studio, a hands-on class to learn how to mix 3 craft cocktails. Dallas was one of four cities including Los Angeles, New York and Miami to host The Art of the Mix. Yea Dallas for being grouped in with those three, very cosmopolitan!! For only $20 (all of the proceeds went to benefit ocean restoration by Oceana.org) each participant had their own station that included everything needed to mix all 3 cocktails. Cointreau did a spectacular job on the set-up.
In an hour and a half, about 40 of us mixed all three cocktails and, even better, got to drink them! The spirits we used were Cointreau, The Botanist Islay Dry Gin and Mount Gay Black Barrel Barbados Rum.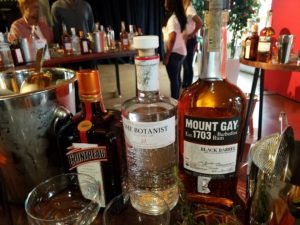 We mixed a Holiday Margarita, a Blackberry Thyme Bramble and a Holiday Rum Old-Fashioned. Get a jump on your holiday drink planning and give these a try. It will come as no surprise to our readers that my favorite was the Blackberry Thyme Bramble made with The Botanist Gin.
The class was fun and, if you are a cocktail enthusiast like me, it is a perfect way to spend an evening. ~~Kay
Yours truly and a Holiday Margarita

Holiday Margarita

1 ounce Cointreau

2 ounces Blanco Tequila

1 ounce fresh lime juice

1 dash aromatics (We used Scrappy's Bitters)

Glass: Chilled coupe; rimmed with cinnamon and sugar

Garnish: Sprig of Rosemary

Combine all ingredients in a shaker and add ice. Strain into the coupe and garnish with the Rosemary sprig.

BLACKBERRY THYME BRAMBLE

1 1/2 ounce The Botanist Gin

1 ounce Cointreau

1 ounce fresh lemon juice

3 fresh blackberries

2 Thyme sprigs, one for garnish

Glass: Chilled coupe

Add all ingredients to shaker and add ice.  Shake vigorously and double strain into chilled coupe. Garnish with Thyme sprig.

HOLIDAY RUM OLD – FASHIONED

2 ounces Mount Gay Black Barrel Barbados Rum

1/4 ounce Cointreau

1/2 slice of orange

4 dashes Bitters (We used Scrappy's Bitters)

1 bar spoon brown sugar

Glass: On the Rocks

Garnish: Cinnamon stick

Muddle orange slice, brown sugar and bitters in a rocks glass making sure the brown sugar is dissolved. Add Mount Gay Black Barrel Barbados Rum and Cointreau. Add ice and stir. Garnish with a cinnamon stick.
That's it for this week. Be sure to let us know if you try one of these holiday cocktails. They all sound good but I'm going to try the Holiday Rum Old-fashioned first. It sounds yummy and I'm a fan of dark rum. ~~Lynda
Please follow and like us: