Hi! I'm Allison, Kay's daughter, and I love beer. How much? Enough to drag myself out of the house on a blistering hot Austin weekend for the Austin Chronicle's Five-8 Brew Tour. Trust me, this is impressive—it's hard enough to drag me out of the house when the weather's nice! Free pours at some of my favorite local breweries were impossible to resist.
Way back in July, the Chronicle put together this event to highlight some of the excellent breweries crammed into Austin's 78756 zip code. In Austin, we're spoiled for choice when it comes to craft beer. From the beer aisle at the HEB to the taps at the Alamo Drafthouse and nearly any restaurant, you can live your beer-drinking life down here happily without ever having to settle for something boring and mass produced.
Many of Austin's excellent beers come from small breweries huddled together in the crook of 183 and MoPac (MoPac, for those not familiar with Austin, is the Mopac Expressway), and that's where my boyfriend Matt and I set off to Friday night to start our tour.
**Note: If you're not familiar with craft beer you may need a couple of definitions to help you navigate the descriptions. ~~Lynda
ABV stands for Alcohol by Volume and it tells you what percentage of your beer is alcohol (Most of your mass produced beer is 5% ABV)
IBU equals International Bitterness Units. This is a measure of the bitterness of the hops on a scale of 0 to 100.
We started our tour at a personal favorite. ABW is a major staple here in Austin. They got their start in 2011 and have become one of the city's flagship breweries. The quality of their brews proves their founders' passion for excellent beer, but they're more than just a great brewery: they're dedicated to building up the craft brew community in Austin and for advocating for small breweries' rights, all while maintaining their goofy, fun personality—they do it all! You could come down to Austin just to visit this brewery and leave happy (and if you are an out-of-towner who wants to try their beers, you'll have to, because they don't distribute outside Austin!).
Zoltan (Yuzu Sour, 4.5% ABV)
I was pleasantly surprised by this one. I don't usually like sours all that much, but it had a light, citrusy flavor that was perfect for the heat. With a minuscule two (yes, two) IBU, it was refreshing, zingy, and bright with a pleasant aftertaste. You could really taste the yuzu, which I enjoyed, and it just barely called to mind Jolly Ranchers for me somehow. I'd do this one again!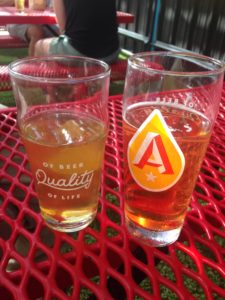 Flavor Country (Hoppy Pale Ale, 5.9% ABV)
This beer has recently entered ABW's regular canning rotation, so you know it's good. At 35 IBU, you can taste and enjoy the blend of Centennial, Citra, Mosaic, and Simcoe hops without being overwhelmed by bitterness. This would be a great beer to try if you want to get into IPA flavors and characteristics but are worried they'll be too much for you. It's super drinkable with some piney and citrus notes, and has quickly become one of my favorites in their lineup.
ABW Food (CAN-tina)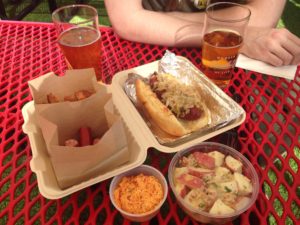 Since the last time we visited, they'd set up a more-or-less permanent food truck here, so we had to check it out. They had a nice combination of entrees and shareable snacks, so we grabbed a nice mix of things to try. Matt had a jalapeno boar sausage that was really tasty, and I opted for homemade pimento cheese, venison and pork snack sticks, and some German potato salad. The pimento cheese was really delicious and worked out well with the savory snack sticks (which were kind of like a fancy Slim Jim without the over-saltiness), but the potato salad was a little too waxy and under-salted. The boar sausage was awesome.
We set out Saturday morning for our next stop on the tour, Celis. We'd never been to this brewery before, but they were Austin's first craft brewery, originally established in 1992. Along the way, the brewery was sold to Miller, which subsequently shut them down in 2001 (don't sell out, kids). The brewer's daughter rebuilt the brewery in 2017, and now they're back on the scene with their original recipes, including wit and other beers using their proprietary Belgian yeasts.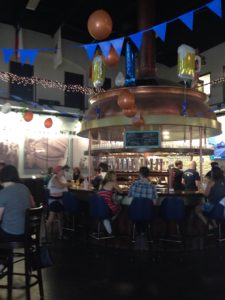 They have a nice taproom and a good selection of beers. We wanted to start off slow, so we only had two beers here. I'm disappointed to report that the staff on hand that day was a little curt to us—maybe he was having an off day, or maybe he was steeling himself to face the tide of people participating in the brew tour. That's not what really matters, though; the beers are the important part!
Grapefruit Grandis Maximus (Hazy IPA, 7.2% ABV)
I usually can't refuse a grapefruit IPA, so my free pour choice was clear. This beer was a heavy hitter—overwhelmingly citrusy and juicy. For an IPA with this ABV, it was surprisingly not very hoppy or bitter. Everything was drowned out by the sheer juiciness. For some people, this would probably be a huge win, but for me it was more like drinking juice than beer.
Pale Bock (German Bock, 5% ABV)
This beer made a much better showing for the brewery for us. It had a pleasant, malty smell and a full flavor with hints of nuts, caramel, and spices. This would be a great beer for sitting on the back porch and relaxing with. Really drinkable but with plenty of flavor. I'd buy this one!
After saying goodbye to Celis, we headed to another tried-and-true favorite of ours. Adelbert's (pronounced ah-DEL-bert, for the curious) specializes in Belgian-style beers, and they have some of my favorite beers in Austin, hands down. Their cozy brewery also has some cool MAME-like arcade machines—an obvious bonus for me, since I work in games and love them.
Adelbert's got its start in 2011, and they create both recognizable Belgian standards like the Tripel B (a Tripel, as I'm sure you guessed) and interesting experiments like the Sundowner, a Bier Brut (which uses champagne yeast). They're a must-visit brewery if you're in Austin. On to the beers!
Fruit Wit King (Witbier, 5.6% ABV)
This fruity beer had a bit of sourness to it, but not too much. It wasn't sweet at all, thankfully, but was pleasantly tart, and I'm pretty sure there was some tannin-like bitterness to it. Overall, the flavor wasn't very strong (though you could definitely taste that fruity Belgian-yeast flavor). For me, they have much better offerings on tap, so I probably wouldn't go for this one again.
Scratchin' Hippo (Amber, 5.5% ABV)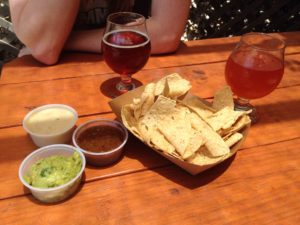 Originally brewed as a Bière de Garde, Adelbert's has since changed this beer's recipe to a more approachable Amber Ale. The story goes that the eponymous Del, the founder's globe-trotting brother, was in Kenya one night when the house began shaking so violently that he thought there must be an earthquake happening. Turns out, a hippo had come up from the nearby lake and was scratching itself on the building! This brew is malty and caramelly with almost no hop flavor at all. It's smooth and full of flavor, so it's easy to see why they're canning this one.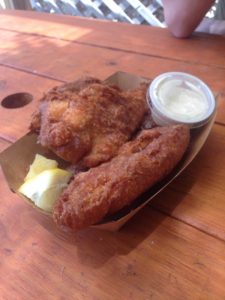 It was time for some food with all these beers sloshing around, so we got a bite at the food truck of the day at Adelbert's: Liberation Kitchen. We had some acceptable chips and salsa with excellent guacamole and queso and then shared some fish and chips that were to die for. I didn't know you could get fish this perfect and crispy in Austin! I'd visit these guys again, but it'd be hard to get anything other than the fish and chips, though lots of stuff on their menu looked awesome. It was time to move on!
After the relatively heavy beers at Adelbert's, we opted to head somewhere we'd never heard of—unusual for us when it comes to the Austin craft brew scene! These guys opened in November 2017, so they're pretty new. By this point in the day, lots of people were on the brew tour, and they all seemed to be crammed into this tiny taproom.
Fairweather had a surprising number of ciders on offer for being so new, most of which were only available out of their taproom, and they even offered a sake-cider combination made exclusively for the brew tour. I needed to focus on lower-ABV drinks by this point, but it was tempting. We really liked their clean, simple style and hope they're here to stay!
Tejano Dreams (Dry Cider, 6.8% ABV)
This cider is fermented with Anaheim peppers, and they really stand out! If you're adventurous and don't mind some non-standard flavors in your cider, I really recommend it. The cider itself was light and refreshing, and the flavor of the chiles makes it something unique—it wasn't spicy at all, just peppery. I bought some of this to take home.
Common (Dry Cider, 6.5% ABV)
Their flagship cider was bright, clean, and dry. There wasn't a ton to say about it, but if you're a fan of dry ciders, this would be a solid choice. Like the other cider we had, it wasn't sweet and tasted great. Perfect for a hot day.
See You Next Time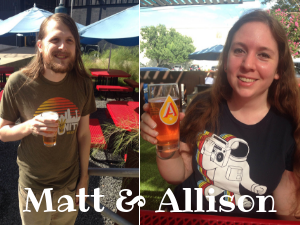 OK, we're halfway through the brew tour! As you can see, Austin has no shortage of excellent craft beers and fun, welcoming breweries—with new ones popping up all the time. I'll be back with the other four breweries (Oskar Blues, 4th Tap, Circle, and the Austin Homebrew Supply) next time!
Wow! Thanks so much Allison for the tour. We'll be looking forward to the second half. I can't wait to get up to Austin to try some of these breweries in person. 
Thanks for reading this week. Hope you enjoyed this slice of Austin's craft brewery scene.
Please follow and like us: