Let the holidays begin!
This week, let's begin with the food. One of the things we do at this time of the year is peruse the cookbook collection (yes, real books) to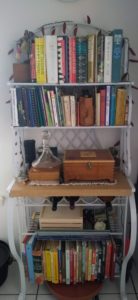 find things we haven't tried and old favorites we've forgotten. My DH found the following recipe in the Food & Wine Annual Cookbook 2012. Even better, he made it for brunch. I'll also share a drink from the same cookbook. If you love cookbooks, this one is worth having on your shelf.
Parmesan Asparagus with Poached Eggs (adapted from a recipe by Gwyneth Paltrow)

1 pound thick asparagus, trimmed

2 tablespoons butter, melted

Salt and freshly ground pepper

1/4 cup grated Parmesan cheese

1 tablespoon white wine vinegar

4 large eggs

1/2 pound breakfast sausage (optional)

Brown sausage in skillet, breaking it up into crumbles. Remove from pan with slotted spoon and drain on paper towel covered plate. Set aside.

In a large deep skillet, blanch the asparagus in boiling salted water for about 3 minutes. You want the asparagus to be tender but still crisp. Remove with slotted spoon and drain on paper towels, patting dry. Reserve the blanching liquid.

If using sausage, add it to the bottom of individual baking dishes, top with asparagus spears, brush the asparagus with butter, season with salt and pepper. Sprinkle the Parmesan cheese over the asparagus and sausage and place under the broiler. Broil until the cheese is golden, about 1 minute.

Add the white wine vinegar to the reserved blanching liquid and bring it to a simmer. Crack the eggs into small dishes and slip into the simmering water. Cook until the whites are set but the yolks still runny (about 3 minutes). Remove the eggs with slotted spoon and drain thoroughly on paper towels. Place on top of asparagus in baking dishes and serve with toast.
This dish was yummy with the sausage but would be good without if you're entertaining vegetarians. This is not a brunch dish I'd serve for a large crowd but it would be easy enough to do for 4 or 6 guests. ~~Lynda
Drinks of the Week
Here's a little homemade bar syrup you should try. Grenadine…you've probably used it in a Tequila Sunrise, but what is in Grenadine?
It's a pomegranate simple syrup. A reduction of pomegranate juice and sugar, with splash of fresh lemon juice to brighten it up. Easy to do and you can impress your friends by making it yourself. You're going to love the fresh flavor you get from the homemade Grenadine and it's the perfect complement to a great brunch drink—a Pomegranate Cranberry Mimosa. Enjoy! ~~Kay
Homemade Grenadine

Grenadine Syrup

1/4 cup sugar

1 cup pomegranate juice (100%; no sugar)

Juice from 1/2 lemon

In a skillet (I used my small cast iron) add sugar and pomegranate juice and simmer over medium heat until it just starts to boil. Boil for 5 minutes, remove from heat add lemon juice. Cool and place in air tight container.store in the refrigerator. Keeps for 2 weeks.

Pomegranate Cranberry Mimosas

1/2 ounce grenadine syrup (recipe above)

1 ounce 100% Cranberry juice

Top off with Sparkling wine, Prosecco or Cava of your choice.

Glass: Champagne Flute

Garnish: 2 or 3 fresh cranberries rolled in Demerara sugar and skewered.

Put Grenadine syrup and cranberry juice in Champagne Flute and fill with ice cold sparkling wine,

Prosecco or Cava. Garnish with sugared cranberries.
Wow, Kay, that's a beautiful and very holiday-ish Mimosa. I love it. Here's the drink from the Food & Wine Annual Cookbook 2012. It's a creation of Austin chef, James Holmes.
The Big Texan Bourbon and Grapefruit Cocktail

2 tablespoons fresh grapefruit juice

1-1/2 oz. bourbon

1/2 tablespoon simple syrup

2 basil leaves

Grapefruit slice and cherry for garnish

Combine grapefruit juice, bourbon, simple syrup (I didn't have any simple syrup made so I used agave nectar) and basil leaves in a cocktail shaker. Add ice and shake. Strain into ice-filled rocks glasses and garnish with grapefruit slice and cherries.
Thanks for reading. Be sure to let us know if you try any of the recipes or drinks, we love to hear from you!
**Some of the links in this blog may be affiliate links, meaning, at no additional cost to you, we will earn a commission if you click through and make a purchase.
Please follow and like us: