Years ago I used to host an annual brunch and cookie exchange for all the volunteers at both my daughter's and son's schools. We worked hard all year and when we were winding down and school was about to let out we gathered at my house for good food , mimosas and cookies. While the mimosas were good, the cookie exchange often took center stage. For some having the best cookie was a priority ( I am guilty ). Being one of those, I spent a lot of time testing cookie recipes. One year I stumbled on a cookie made with Irish Cream and glazed with Irish Cream…how could I go wrong. That was years ago and this recipe is still a favorite in my rotation. In fact, the batch pictured here I made and shared at the office this week. There were no complaints! These cookies are soft, a little chewy and the Irish Cream glaze intensifies that boozy flavor.
So open up the "bar" and bake some cookies!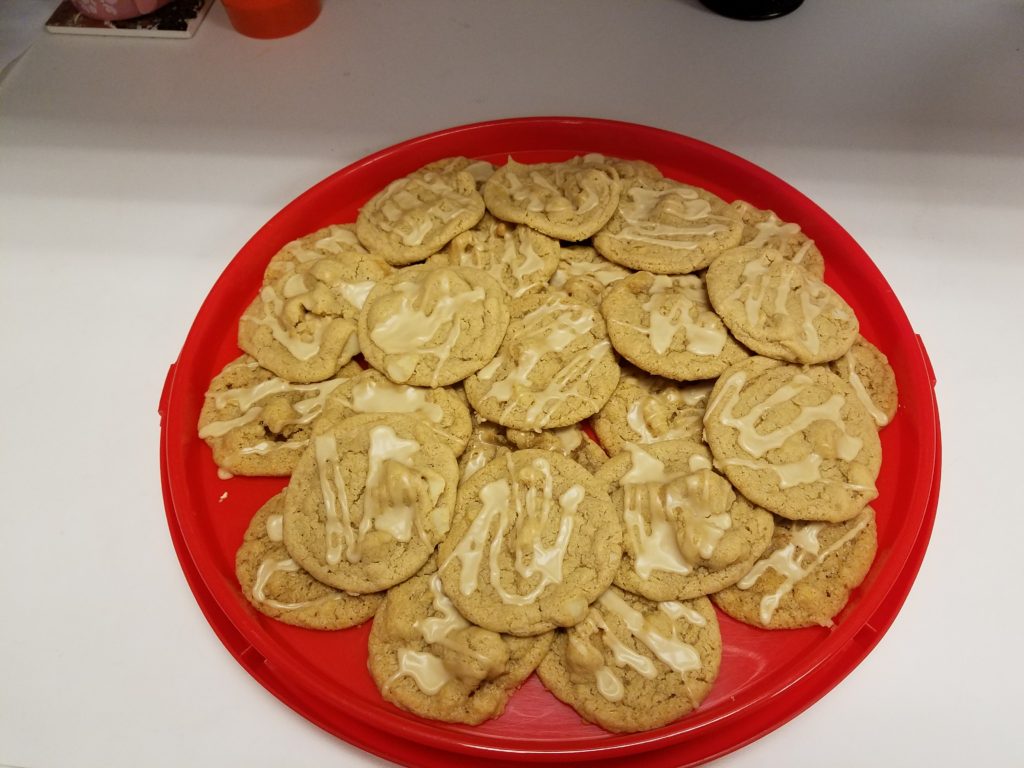 Macadamia & Irish Cream Cookies
Recipe says this make 4 dozen cookies, I guess we make everything bigger in Texas because I get less than 3 dozen.
Preparation Time: 1 hour Baking Time: 10 minutes per batch
Cooling Time: 15 minutes
COOKIE
1 cup packed light brown sugar
1/2 cup butter, softened
1/4 cup half & half
1/4 cup Irish Cream liqueur *
1/4 teaspoon rum extract
1 1/2 cups all-purpose flour
1/4 teaspoon baking soda
1/8 teaspoon salt
1 (3.25-ounce) jar macadamia nuts, coarsely chopped
GLAZE
1/2 cup powdered sugar
2 tablespoons Irish Cream liqueur *
Substitutions:
*Substitute 2 tablespoons Irish cream coffee flavoring syrup plus enough half & half to equal 1/2 cup.
**Substitute 1 tablespoon Irish Cream coffee flavoring syrup and 1 tablespoon half & half.
INSTRUCTIONS
Heat oven to 350. Combine brown sugar and butter in large mixer bowl. Beat at medium speed, scraping bowl often , until creamy (1 to 2 minutes).
Reduce speed to low. Add half & half, 1/4 cup liqueur and rum extract; beat until well mixed (1 to 2 minutes). Add flour, baking soda and salt; continue beating until well mixed (1 to 2 minutes). Stir in nuts by hand.
Drop dough by rounded teaspoonfuls onto ungreased cookie sheets 2 inches apart. Bake for 10 to 12 minutes or until lightly browned. (Do not overbake). Cook completely
Stir together powdered sugar and 2 tablespoons liqueur in a small bowl until smooth. Drizzle over cooled cookies. Let stand until glaze is completely set.
Comments:
You may notice these cookies have no "eggs" . Don't freak out, the recipe is correct they really do not have them. I thought I would mention it because it seemed really strange to me the first time I made them.
This recipe came from a Land O Lakes Recipe book I picked up at the grocery store. This had to be in the 90's, but thank you Land O Lakes!
---
I didn't get to try the Irish Cream Cookies but they look delicious. I was in the mood for some peanut butter cookies. What would be better than peanut butter and chocolate? Adding coffee liqueur, of course. My husband suggested this combo and it is yummy. ~~Lynda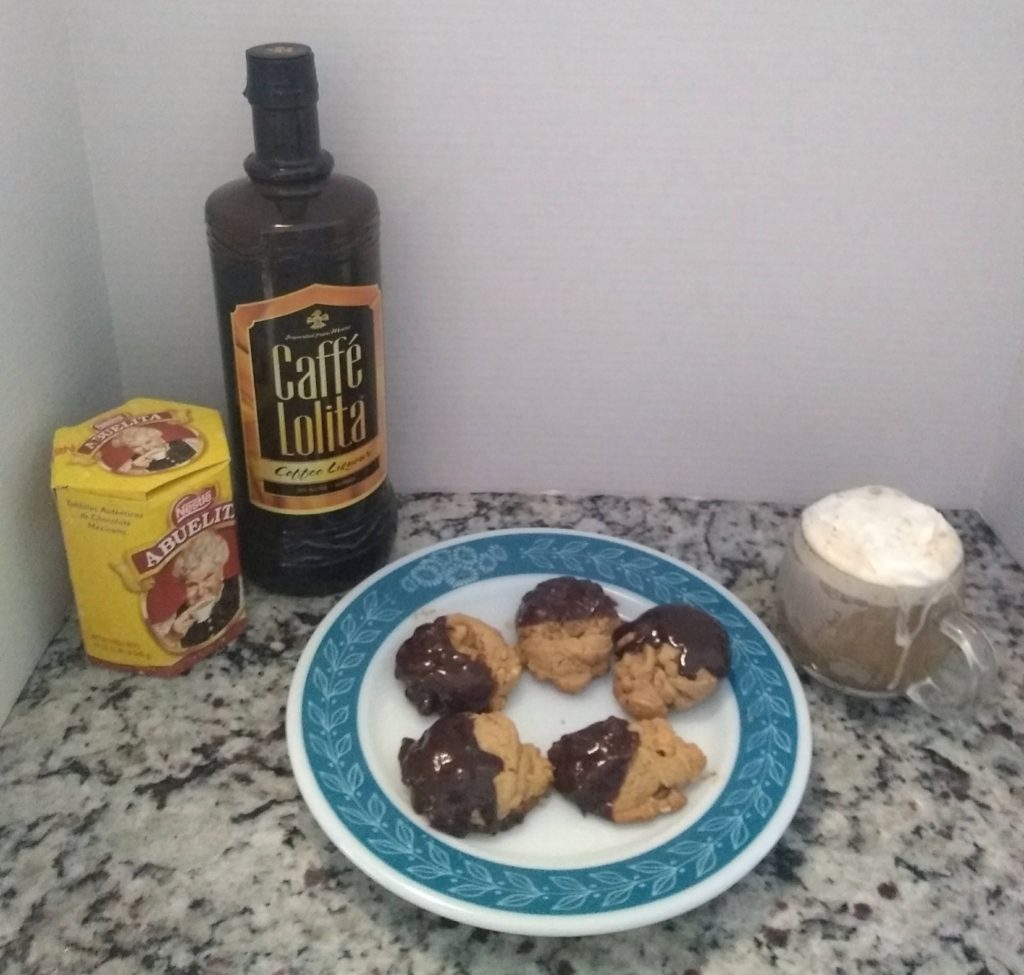 Mexican Chocolate Peanut Butter Cookies
Ingredients:
1 cup butter, melted
1 cup brown sugar
1 cup white sugar
1 cup creamy peanut butter
1/4 cup coffee liqueur
1 tablespoon vanilla extract
2 large eggs
1 teaspoon baking soda
1/2 teaspoon salt
2-2/3 cups all-purpose flour
Chocolate Dip
4 ounces milk and 1-1/2 rounds of Mexican Chocolate (semi-sweet chocolate baking bar will work if you can't find Mexican Chocolate)
Instructions
Line a cookie sheet with parchment paper. In a microwave safe bowl or measuring cup, microwave the butter until it's almost melted. Pour into a large bowl and add brown sugar and white sugar. Mix with a large whisk until combined.
Add peanut butter, coffee liqueur and vanilla extract, mix until combined. Add in eggs one at a time, mixing until combined. Add baking soda, salt and mix, then add in the flour. Don't overmix this or the cookies will be denser. Cover the dough and refrigerator for 30 minutes. Preheat oven to 325 degrees.
Once the dough is chilled scoop into balls (I used a 1-1/2 inch cookie scoop) and put on cookie sheet. Bake for 10-12 minutes. (My first batch came out a little too soft so I put the cookie sheet on the bottom rack of the oven for the second batch and baked for 12 minutes. Ovens vary so you may have to experiment with baking time.) Cookies will be soft. Remove and let cool for 5 minutes, then transfer to a rack to cool completely.
To dip in chocolate: coarsely chop the chocolate and put chocolate and milk into a microwave safe bowl. Microwave for 20 seconds, stir. Continue to microwave in 20 second bursts, stirring until chocolate is completely melted and mixture is smooth. Dip 1/2 of each cookie in the chocolate and set on a sheet of parchment paper until the chocolate sets.
Comments:
You can add in nuts and chocolate or butterscotch chips. The Mexican chocolate (see photo) is a little cinnamon-y. It's worth trying to find it. It's not difficult to find in Texas but I'm not sure about other parts of the world.
Serve with a cup of coffee spiked with a little coffee liqueur and topped with whipped cream.
---
Thanks for reading, y'all. Hope you'll try the cookies. Let us know how you liked them. We'll be back with new cocktails soon.
Please follow and like us: