I recently purchased a bottle of Laird's Apple Brandy or Applejack and set out to find a cocktail I could enjoy using the Apple Brandy. The cocktail recipe I found is a warm you up kind of drink . It has been a little colder here in Texas (well cold for Texas) so it was a great choice.
The Newark was created by John Deragon and Jim Meehan for the cocktail menu at PDT, a speakeasy type establishment located in New York City, in 2007. Their inspiration for using Apple Brandy in the cocktail came out of necessity. Apparently during that time period rye whiskey was in short supply due the growing popularity of classic whiskey cocktails, i.e., the Sazarec and Manhattan in New York City. They choose Laird's Apple Brandy which just happen to be made in New Jersey since 1780. Hence the nod to New Jersey by naming the cocktail The Newark.
I had already decided to try the cocktail when I realized I did not have one of the ingredients in my home bar. Fernet-Branca is a bitter or herbal liqueur, so I decided I could substitute Angostura bitters and get the same effective. I think I was close to the original recipe, it was pretty tasty. However the original recipe calls for .25 ounces of Fernet-Branca and not knowing the strength of its flavor I only used 3 drops of the Angostura bitters.
Another all spirit cocktail, this one will warm you up on a cold day in Texas or wherever you might be. This is good introduction to Apple Brandy!!!
~~Cheers, Kay
Recipe
2 ounces Laird's Apple Brandy or Applejack
1 ounce sweet vermouth
3 dashes Angostura bitters
.25 ounces Luxardo maraschino liqueur
Glass: Chilled coupe
Garnish: None
Pour all ingredients into a mixing glass and add ice. Stir and strain into the chilled coupe.
Mezcal—It's Not Tequila
Seems like every blog I've read or magazine I've picked up lately has been extolling the wonders of mezcal. I'm a fan of tequila but the only thing I really knew about mezcal came from my much younger days—namely, you don't want to be the one to get the last drink because then you have to eat the worm.  But, with so many people writing about mezcal, I decided to buy a bottle and give it a try.
Mezcal, like tequila, is an agave-based spirit. While tequila can only be produced from one variety of agave, mezcal can be made from up to 30 different agave varieties. It also is only produced in the Mexican state of Oaxaca. The biggest difference in the production of mezcal seems to be that the pin᷉as (the pineapple shaped hearts of the agave plants) are placed in cone shaped pits lined with rocks and heated by wood-fires and roasted for 3 to 5 days before distillation. This roasting imparts the distinctive smoky flavor found in mezcal. Mezcal is aged in oak barrels—2 to 9 months for reposado, at least 12 months for an᷉ejo.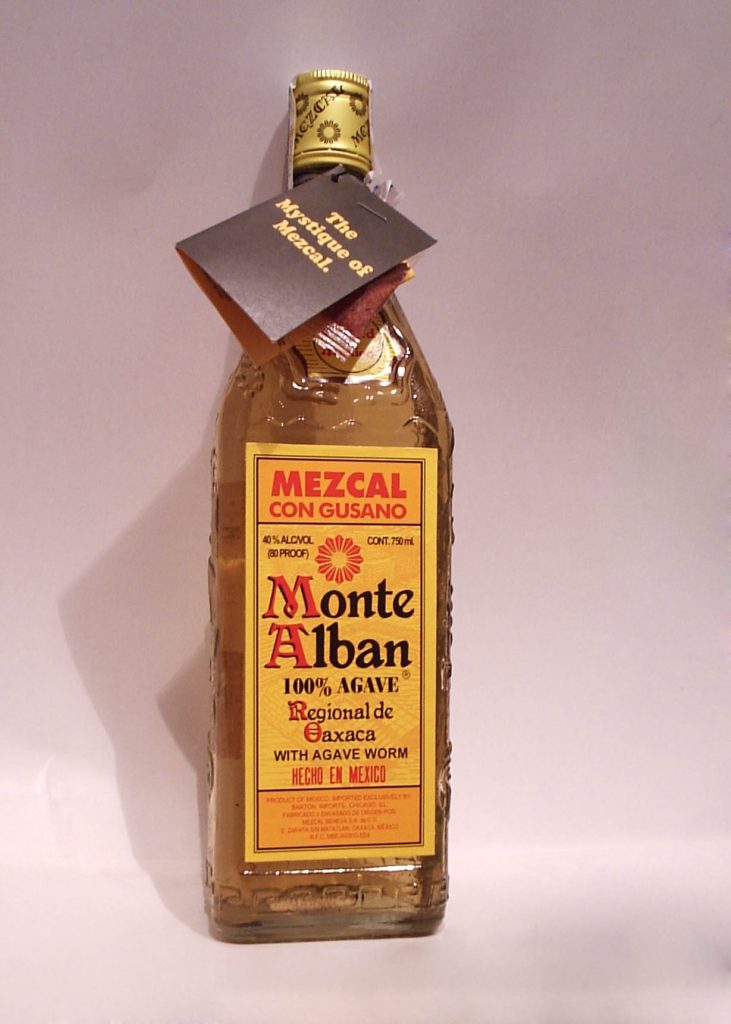 I picked up a bottle of Monte Alban Con Gusano—yes, it has the worm— which is technically the larvae of a moth. The worm in the mezcal bottle is most likely a marketing ploy. I'm pretty sure it doesn't change the taste or "unlock the door to a world of wonderous experience" as it says on the little brochure attached to the bottle. I read a few reviews that knocked Monte Alban Mezcal but I found it to be smooth with a nice smoky flavor and it worked in the drinks I tried.
~~Enjoy, Lynda
The first cocktail I tried, a Rising Sun, was smooth, drinkable and highlighted the smoky taste of the mezcal for me.
Rising Sun
Recipe from Toro Bravo Restaurant, Portland, Oregon
1-1/2 oz. mezcal
¾ oz. grapefruit juice
½ oz. fresh lime juice
½ oz. Maraschino liqueur (I didn't have this liqueur so I substituted Kirschwasser—a cherry brandy)
Pinch of salt
Combine all ingredients in a cocktail shaker with ice. Shake and strain into a chilled coupe glass. Garnish with a lime wheel

Mezcal Sour
I shook one of these up for brunch. It was bright and tasty. Next time I think I'll add a little more lemon or maybe try lime juice to get a little more "sour".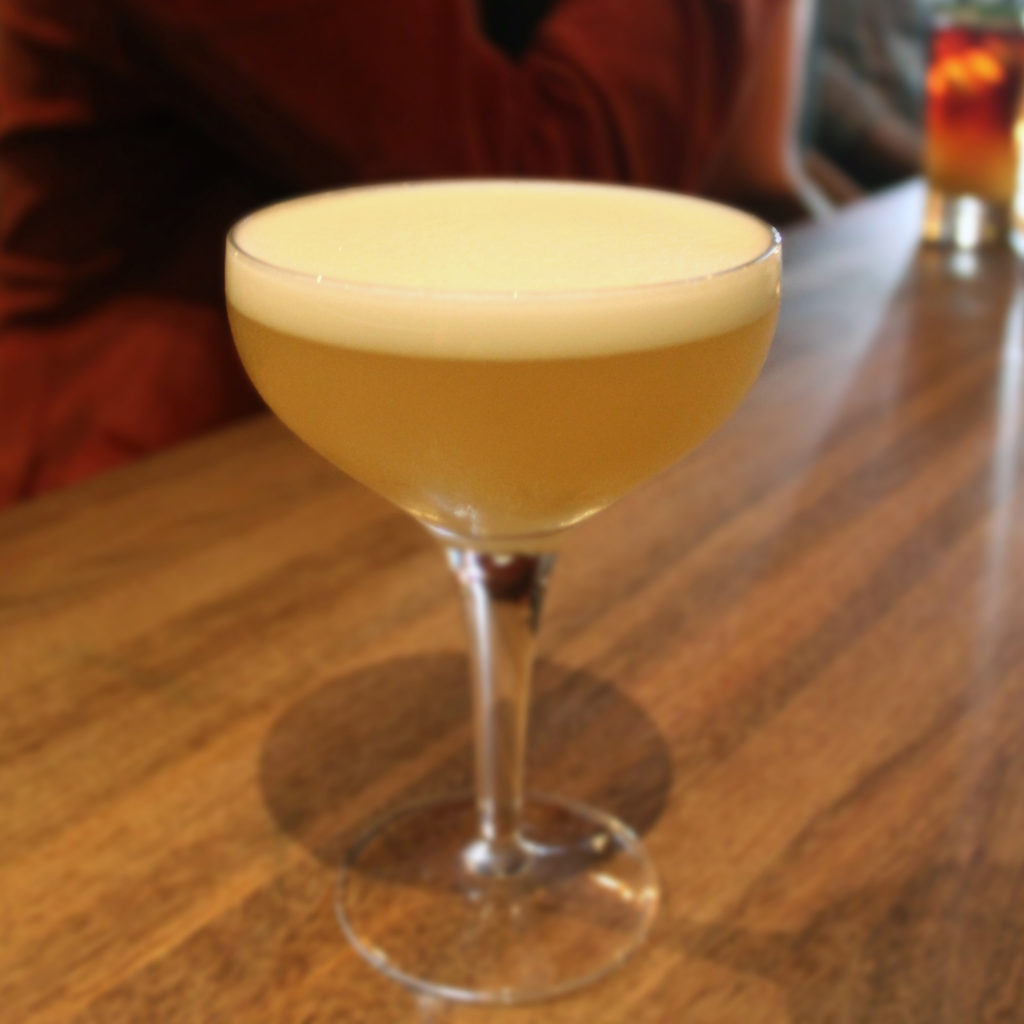 2 oz. mezcal
1 oz. orange juice
½ oz. fresh squeezed lemon juice
¼ oz. agave syrup
1 egg white
In a Boston Shaker (the kind with 2 separate cups), put the egg white in the large shaker cup, then combine the mezcal with the juices and agave in the smaller cup. Pour the mixture on top of the egg white in the large shaker. Dry shake (without ice) for about a minute, then add ice and shake vigorously. Strain into a chilled coupe glass and garnish with orange peel twist if you like.
I also tried this adaptation of a Tequila Sunrise. Adding the grapefruit juice cuts the sweetness of the orange juice just a bit. Another great brunch drink.
Mezcal Sunrise
2 oz. mezcal
Splash of grapefruit juice
Orange juice
Grenadine
Combine mezcal and splash of grapefruit juice over ice in a highball glass, fill with orange juice. Float 3-4 teaspoons grenadine on top.
---
Hope you enjoy this edition! Let us know if you try any of the drinks or if there's something you'd love to try.
Please follow and like us: