Drink of the Week
Champagne Margaritas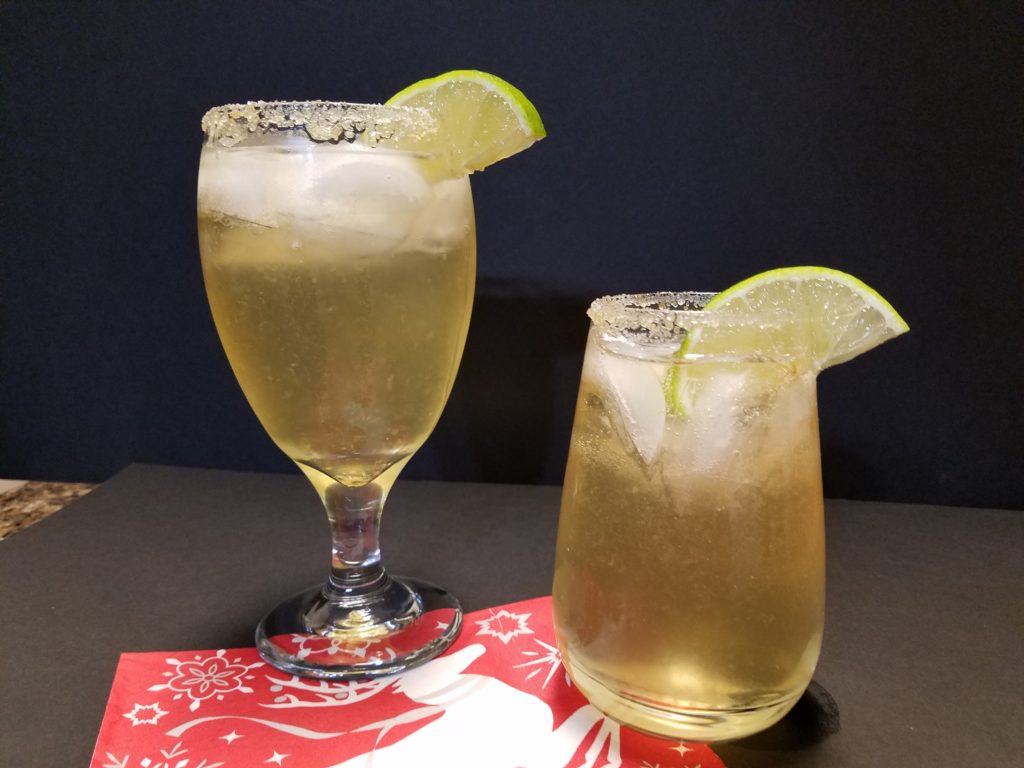 Ingredients for 2 Margaritas

2 oz. white Tequila

2 oz. orange liqueur (Cointreau or Triple Sec)

2 Tbsp. fresh squeezed lime juice

1 oz. agave syrup

6 oz. brut champagne/sparkling wine

For Sugared Rims & Garnish:

About 1 Tbsp. Demerara or Turbinado sugar

About 1 Tbsp. granulated sugar

Lime wedges

Note: If you prefer you can use coarse sea salt for the rims.

Rub a lime wedge around each glass rim, dip in combined sugars or in salt.

Fill a cocktail shaker with ice and add tequila, lime juice, triple sec and agave. Shake and strain into two glasses. Top with champagne and garnish with a lime wedge.

If you have a crowd you can mix up a pitcher of margaritas, then fill each 2/3 full and top with champagne or sparkling wine. For a pitcher of margaritas:

1 cup fresh lime juice

1 cup orange liqueur (Cointreau or Triple Sec)

1 cup silver tequila (100% agave)

About 4 oz. agave syrup (more if you like sweeter margaritas)

Mix all together and chill.
For a true Texas New Year celebration you can not go wrong with this cocktail. It has everything a Texan could ask for, turned up a notch with the champagne. I used one of my new favorite American sparkling wines, Gruet Brut. It will be a great addition to your celebration because it is affordable and very drinkable, straight for your midnight toast or in your cocktails. Happy New Year from Texas!!! ~~Kay
HOME BAR ESSENTIALS
Over the holidays I hosted a couple of cocktail gatherings for my friends and I thought I'd share what I find essential in setting up my bar. Here's my list of tools I can't do without for a successful cocktail party experience.
Ice – Lots and lots of ice. If you think you need one bag, get three! Ice for mixing, ice for shaking and ice for chilling bottles (beer, wine, etc). Also keep an ice pick handy.
Glasses – Depending on your offerings, try to have glasses for each cocktail. Example: Champagne flutes for Champagne, Prosecco or Sparkling Wine; coupes for martini style cocktails; double old fashioned glasses for your whiskey drinks and gin and tonic style cocktails. If you are serving beer at least one type of mug or pilsner glass. Wine glasses – all purposes or red and white.
Jigger – 1 ounce- 2 ounce Have a couple available for use.
Cutting Board/Knife – for cutting limes, lemons and other garnishes.
Citrus juicer and some small carafes for the fresh squeezed juice.
Bar Spoon – I use teaspoons because I have some that I love and haven't invested in an actual bar spoon yet.
Wine Key or Corkscrew
Shaker
Strainer
Wooden or metal skewers for olives or other garnishes.

Remember, everything doesn't have to match. I love eclectic style. My vintage glasses, shakers and teaspoons blend well with my more contemporary items.
Oh yeah, the Happy Hour Party was a success! I spent the weekend before Christmas with Lynda at her house and she has great bar items. She had a few I don't have and she got some very nice stuff for Christmas! Maybe Lynda can give us some more ideas about the perfect home bar. ~~Kay
Note: Kay has covered all the bases on bar essentials. I'll share some of my
favorite things in a future blog. ~~Lynda
Accompaniments
Here's an easy appetizer to serve at your New Year's Eve celebration.
Drunken Tomatoes
1 cup vodka
1 tablespoon Worcestshire sauce
Tabasco to taste
1/2 teaspoon celery salt
1 teaspoon lemon zest
2 pints cherry tomatoes


Prick the tomatoes in several places with a toothpick. Combine the other ingredients and add the tomatoes. Cover and let marinate in the refrigerator for several hours to overnight.


Serve with seasoned salt.
1 teaspoon celery salt
1/4 teaspoon cayenne
2 tablespoons sea salt

And, if you're from Texas, you know that eating black-eyed peas on New Year's Day brings prosperity and good luck. This recipe can be served as a salad or grab the corn chips and serve as a dip.
Black-Eyed Pea Salad
2 cans black-eyed peas

2 slices bacon fried until crispy and chopped

1/2 chopped red onion

1 red bell pepper, diced

1 to 2 jalapenos, diced

2 cloves garlic, minced

1 stalk celery, chopped

1 tablespoon fresh parsley, chopped

3 tablespoons balsamic vinegar

2 tablespoons olive oil

Drain and rinse black-eyed peas in a colander. Combine with vegetables. Shake balsamic vinegar, olive oil and salt and pepper to taste. Pour over everything. Refrigerator for a few hours or overnight. Add chopped bacon and parsley before serving.
Thanks for reading! Wishing everyone a Happy, Healthy and Prosperous New Year filled with good friends, good food and good cocktails! ~~Lynda
Please follow and like us: