"When the moon hits your eye, like a big pizza pie, that's amoré." Song written by Jac Brooks & Harry Warren
Kay:
This week I went international. After all we are in the midst of the 2018 FIFA World Cup. While soccer is not my favorite sport, it is definitely an excuse for a watch party. Why not try something new? A friend is staying with me while she builds her retirement home at the lake. She has been a great taster and was a lot of help with this week's Pizza Fritta.
Pizza Frittas are Italian street food, a hand held fried pizza sold on the streets in Italy's Neapolitan region. The Pizza Fritta came into existence like many of a lot of things in our history, out of necessity.
"After World War II, the Neapolitan 's found times were hard and fried pizza was a less expensive alternative, nick-named "Pizza of the People" , was filled with "poor" ingredients. Pork cracklings, pepper and ricotta. Housewives sold it on the streets to supplement the family income. Times were so hard, customers could even buy pizza fritta on credit; called pizza at eight; pizza a Otto it was eaten in the spot and paid for eight days later. "Pizza Fritta: Italian Street Food to Make at Home by Francine Segan (http://bit.ly/2La12pD)
While the ingredients are simple, this does require learning the technique. We took a couple of routes and finally found a technique that worked pretty well. All in all we produced a decent looking and tasting Pizza Fritta to share with you. Maybe not street worthy in Italy, but a yummy alternative to the pizza we usually eat.
Important: Be sure you read all way through the recipe before you start. It is crucial to have everything prepped to pull this off.
PIZZA FRITTA

Gather tools:

Deep sided skillet for frying (at least 10 inch)

Tip: If you have a commercial style deep fryer, that would be great. They regulate temperature easily.

Vegetable oil – at least one and half to two inches deep

Wide spatula or spider for turning the frittas.

Rolling pin

Cooking thermometer – to monitor the temperature of the oil.

Ingredients:

Pizza dough – (I purchased mine from a local pizzeria, Mr. Jim's) One ball of dough for a medium pizza will make 6 good size frittas.

1 jar of your favorite pizza sauce

8 – 10 ounces freshly shredded mozzarella

This is where you decide which direction to go. You can do all meat, all veggie or both. Just choose some of you favorite pizza toppings. Make sure to have them chopped and diced and ready to go.

I used sausage (breakfast sausage, cooked and crumbled), diced pepperoni, some diced fresh tomato.

Divide the dough into 6 even balls. Flour your surface and roll each ball into 6 to 8 inch rounds. Put about two tablespoons pizza sauce on the rolled out dough in the center, pile on your chosen toppings. Top with a pile of the mozzarella. Fold one side over the other and crimp the open edges to seal. Once you have all the frittas assembled, heat the oil to 400 degrees. Temperature is important or the frittas will be greasy. Working with one at a time, fry each for 30 seconds per side. (Yes 30 seconds is enough if the oil is 400 degrees).

Drain on paper towels. Serve hot. Enjoy.
I wanted something cold and refreshing to pair with hot, crispy street food. Staying with the Italian theme. I made an Italian Amaretto Margarita. This cocktail combines Amaretto's almond and vanilla flavors, tequila and orange juice. Instead of rimming the glasses with salt I used sugar to bring out sweetness of this drink.
I thought the almond flavor of the Amaretto was unique. I had a couple of friends over to try them and they enjoyed the cocktail. Worth trying for sure!!!
Italian Amaretto Margarita

Makes 4 servings
4 ounces Amaretto Liqueur
6 ounces frozen limeade concentrate (thawed)
6 ounces Tequila Blanco
1/2 cup orange juice
White sugar (for dimming glasses)

Margarita glasses or Coupe

You can make these frozen or on the rocks. If you choose frozen add 6 cups ice to a blender with all ingredients and blend until smooth.
If you choose on the rocks. Simply combine all ingredients in a shaker with ice and shake. Strain into glasses filled with fresh ice and rimmed with sugar.
Lynda:
This week I thought I'd give you another edition of Cast Iron & Cocktails. Although I'm usually more a fan of beer or a nice glass of cabernet sauvignon with my pizza, I paired this deep dish style cast iron pizza with a White Rum Daiquiri. It's tart and refreshing and cuts the heaviness of the meat pizza.
The cast iron pizza recipe is based on a recipe from the Cast Iron Cookbook by Joanna Pruess. Cast Iron Cookbook
**
Cast Iron Deep Dish Pizza

1 pound pizza dough (I used a Pillsbury refrigerated Pizza Crust. You could also try Kay's suggestion of buying pizza dough from your pizzeria)

2 Tablespoons olive oil

1 medium yellow onion, chopped

1/2 pound hot or sweet Italian sausage (whichever you prefer)

1 small can tomato sauce

2 large cloves garlic, peeled and minced

2 teaspoons dried oregano, crushed

Pinch of red pepper flakes

2 cups shredded mozzarella cheese

Preheat oven to 500 degrees.

Heat a 10-inch cast iron skillet over medium-high heat until hot. Saute onions in a tablespoon of olive oil until they soften and start to brown. Remove the casing from the sausage and add to the pan with more oil if necessary. Break up and cook until no longer pink (4-5 minutes). When the sausage and onions are done, remove them to a paper towel lined plate and wipe out your skillet. Brush the bottom and sides of the skillet with a little more olive oil.

Flour your surface and work your dough into about a 12-inch diameter disc. Lay it in the skillet and push it up the sides. Trim off any edges that extend over the edge of the pan.

Combine tomato sauce, oregano and garlic and ladle over the dough. I also added a handful of fresh oregano and basil chopped since I had some growing on my patio.

Add the sausage, onions, red pepper flakes and cheese. Transfer the skillet to the oven (rack in the lower third), bake for 15 minutes, turn the heat down to 400 degrees and bake for about 10 minutes more.
You don't have to stick to the recipe, add whatever toppings you like to this pizza. I added mushrooms to mine. The recipe called for transferring the pizza to a cutting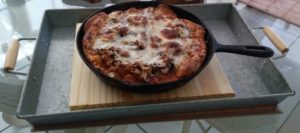 board to serve. I just cut it in the pan and it worked fine. It was a little tricky getting the dough spread evenly in the pan but, in the end, it made a nice rustic crust.
Note: If you can only have piece of cast iron in your kitchen, go for the 10-inch skillet. I think it's the most versatile.
This cocktail couldn't be simpler.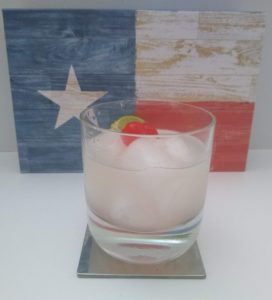 White Rum Daiquiri

2 parts white rum (I used Flor de Cana)

1 part freshly squeezed lime juice

Simple syrup to taste (at least 1/2 oz. unless you like very tart drinks)

Combine in a shaker with ice. Shake and strain into a highball glass filled with fresh ice. Garnish with a lime wedge and a maraschino cherry (optional)
Thanks for reading. We'll be back next week with more cocktails, inspirations and accompaniments. Leave us a comment below if you try any of these cocktails or accompaniments. We love your feedback.
**Some of the links in this blog are affiliate links, meaning, at no additional cost to you, we will earn a commission if you click through and make a purchase.
Please follow and like us: