Summer has triggered a bit of nostalgia for me. For those of you who aren't from Texas, the first Six Flags theme park opened in Arlington in 1961. The name refers to the flags of the six different nations that have governed Texas at different times in the history of the state.
As kids we looked forward to trips to Six Flags in the summer so we thought it would be fun to find a cocktail for each flag—and it was. Hope you enjoy our choices. ~~Lynda
The flag of France flew over Texas from 1685-1690.
Vieux Carre is the old French name for the French Quarter. The drink is quite similar to a Manhattan but it's been kicked up a notch with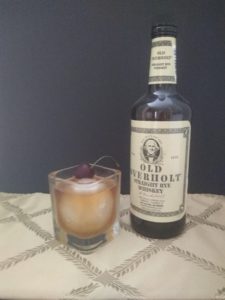 the addition of cognac and Benedictine.
Vieux Carre

¾ oz. rye whiskey

¾ oz. cognac

¾ oz. sweet vermouth

1 tsp. Benedictine

2 dashes Peychaud's bitters

2 dashes Angostura bitters

Add all ingredients to a rocks glass, fill with ice and stir. I used an ice ball instead of cubes. These are fun and you can find them at lots of stores or, of course, at Amazon:** https://amzn.to/2uuM2MQ
The flag of Spain flew over Texas from 1690-1821.
Lynda and I are going down memory lane and I'm starting out with Spain, the second of the six flags to fly over Texas (actually, Spain claimed Texas twice but that's another story). Lots of great adult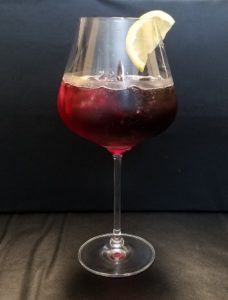 beverages coming out of Spain. Of course everyone thinks of Sangria when they think of Spain. While Sangria is great, the locals avoid the pricey tourist trap and go for a favorite they call Tinto De Verano, or "Red Wine of Summer". Restaurants will make large batches of Sangria and sell it to tourists for high prices. Locals prefer the simpler and less expensive Tinto De Verano. So Lynda, how come I always had to sit where all the water splashed on the Log Ride. That  was in the Spanish section of the park, technically known as El Aserradero, but we just called it the log. Now I prefer the refreshing Tinto De Verano to the splash of the log ride. ~~Kay
TINTO DE VERANO

1/2 Cup red wine of your choice

1/2 Cup Sprite or 7-up

Garnish: Slice of lemon


Glass: Red Wine

Fill wine glass with ice, add wine and Sprite or 7-up. Garnish with lemon slice. Repeat!
Mexico governed Texas from 1821-1836.
I know you're all expecting tequila but I thought I'd mix it up a bit so I found a recipe for a Boozy Horchata. I actually made my own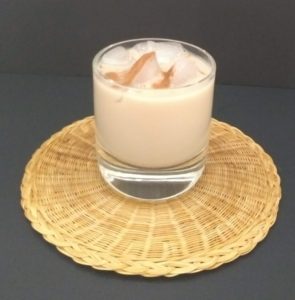 Horchata, a cinnamon-y rice/almond milk that's popular in Mexico, but you could easily buy it. It's available in most grocery stores these days. The Horchata recipe is available here: https://www.bevspot.com/2016/05/02/5-traditional-mexican-cocktails-cinco-de-mayo/. ~~Lynda
Slightly Boozy Horchata

¾ cup Horchata (original recipe called for 3/5 cup but that seemed a little strange)

½ cup unsweetened almond, coconut or rice milk

1 oz. dark rum or coffee liqueur

Dash of ground cinnamon

Shake all ingredients (except cinnamon) in a cocktail shaker and pour into ice-filled rocks or highball glass. Garnish with a dash of cinnamon.

I used the coffee liqueur and unsweetened vanilla almond milk. This would be a good brunch drink and it's very low alcohol.
Texas was it's own country, the Republic of Texas from 1836 – 1845.
In keeping with the time I knew I had to do Whiskey. Other than a straight shot the most popular Whiskey cocktail of all time is the Old-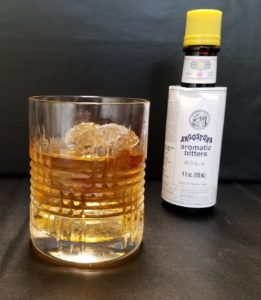 fashioned. While not my favorite, you have to give Whiskey it's due. It has been around, well since the beginning of time.The Old-fashioned was created in 1806. Believe it or not there were fancy hotel bars even during the years of the Republic of Texas in Texas cities like Houston and San Antonio. Checkout the website for Texas State Historical Association for more great history. tshaonline.org. ~~Kay
OLD-FASHIONED

Glass – Rocks

2 ounces Whiskey (use your favorite)

1 sugar cube

2 dashes Angostura bitters

Muddle the sugar and bitters, then add the whiskey. Stir with ice and strain over ice in chilled rocks glass.
The flag of the Confederate States of America flew over Texas from 1861-1865.
I decided to try my hand at  making a Shrub. A Shrub is basically a concentrated syrup that combines fruit, sugar and vinegar. In times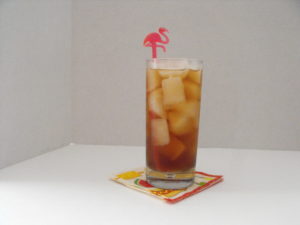 before refrigeration they provided an easy way to preserve fruit. Add shrub syrup to water or soda for a refreshing non-alcoholic drink. You can read an interesting article by Michael Dietsch on making shrubs here: https://drinks.seriouseats.com/2011/06/cocktail-101-how-to-make-shrub-syrups.html
I made a peach shrub because peaches are plentiful right now in my part of the world but you can use just about any berry or stone fruit you like. ~~Lynda
For the Shrub:

1 cup peaches

1 cup sugar

1 cup vinegar

Cut the peaches into small pieces. Put in a glass dish and cover with sugar. Cover your dish and put in the fridge. Depending on how juicy your fruit is this could be ready in 3-4 hours. I left mine overnight. Strain the juice through a sieve into a jar or dish and scrape any undissolved sugar into the juice. Add the vinegar (I used apple cider vinegar but you can use red wine as well) and shake or stir well. The vinegar will dissolve the residual sugar.

For the Cocktail:

2 oz. dark rum (I love Cruzan Black Strap Rum)

1-2 oz. peach shrub syrup

Club soda

Put the rum and shrub syrup in a tall glass, fill with ice, top with club soda and stir.
I'm looking forward to trying some other cocktails using this versatile, easy to make syrup. This one was yummy.
USA 1865-present
Six Flags Over Texas. A lot a great memories for me. Not every summer, but a lot of summers were spent anticipating that trip to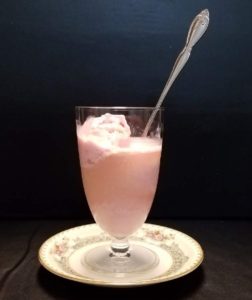 Arlington, Texas for a visit to Six Flags. Once you were there, how long did you have to wait before you got that first Pink Thing? For those not in the know, a Pink Thing is an ice cream treat. Click here to see one. Mom always made us wait until after we had lunch. So to relive my obsession with the Pink Thing, it had to grow up. So representing the United States of America, here is my grown up version of "The Pink Thing" ~~Kay
PINK THING

2 scoops strawberry sherbet

Prosecco or Champagne

Glass – Coupe or wine goblet

Put 2 scoops of strawberry sherbet in glass and top off with Prosecco or Champagne
This is another great brunch or dessert drink.
Hope y'all enjoyed our little trip down memory lane. Come back next week for more cocktails, inspirations and accompaniments.
**Some of the links in this blog are affiliate links, meaning, at no additional cost to you, we will earn a commission if you click through and make a purchase.
Please follow and like us: