Just in case anyone has forgotten, Lynda and I live in Texas. As this week has proven it can be 80 degrees one day and less than 24 hours later it can be 37 degrees with a wind chill of 20 degrees. So with a two-fold agenda, I decided to create a cocktail.
Part 1: Create one concoction that could be used for a great hot or cold cocktail.
Part 2: Use up some of those things in my home bar that have been hanging around since the holidays.
I think this drink accomplishes both items. I started with Irish Creme liqueur, added White Chocolate liqueur, vodka and heavy cream for an awesome cocktail that can be served warm or cold.
Mix up this concoction and pour it over your favorite vanilla or coffee ice cream if you want something cold or add it to coffee if you want to warm things up.
This cocktail—hot or cold—is the best of both worlds. And—bonus—you can use some of the special liqueurs you bought and only used for one cocktail. One recipe—two cocktails! That's a win-win. ~~Kay
Hot'n Cold Chocolate Dream
1 ounce Irish Creme liqueur
2 ounce White Chocolate liqueur
1 ounce vodka
1 ounce heavy cream
For the hot version: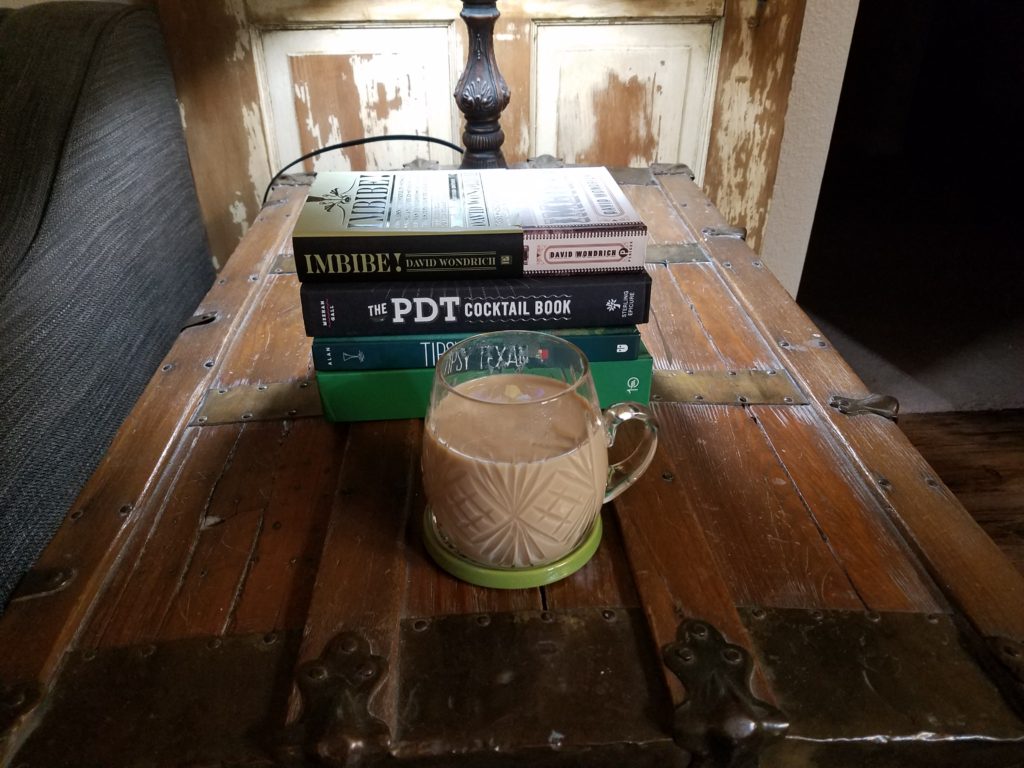 Glass – 10 to 12 ounce coffee mug – I like clear glass
6 ounces of your favorite brewed coffee
Combine the liqueurs, vodka and cream in mixing glass and stir to combine.
Put coffee in your mug and top off with the liqueur, vodka and cream mix.
Garnish – Chocolate shavings if wanted.
For the cold version:
Glasses – Small coupe or large coupe
One or two scoops of your favorite vanilla or coffee ice cream.
Again, combine the liqueurs, vodka and cream in a shaker. This time add ice. Shake until frothy.
For a shake strain over ice cream in a large coupe. For a cold frothy cocktail, strain into a small coupe with or without ice.
Garnish: Chocolate shavings
Believe it or not, it tastes like a boozy chocolate milkshake! Yum!
Mardi Gras…
In honor of Mardi Gras, I mixed up some Hurricanes…even though we had the coldest day of the winter…brrrr! ~~Lynda
Hurricane
Note: You'll need to adjust proportions to your glass. My hurricane glass is not the giant size you get at Pat O'brien's in New Orleans. There can be 4 oz. of rum in one of their drinks.

1 oz. light rum
1 oz. dark rum (I like Cruzan Black Strap)
Passion fruit juice (or a combination of passion fruit and orange juice)
Sugar cube soaked in 151 rum (Optional)
Splash of grenadine and a lime wedge
Add rum to glass, then add ice and passion fruit juice to fill. Top off with a splash of grenadine. Place rum soaked sugar cube on top of drink and light. Garnish with lime wedge.
We're looking forward to spring! Enjoy and be sure to let us know if you try one of these cocktails or if you have any special requests.
Please follow and like us: